Halloween Traditions: 
Why Do Witches Wear
Pointy Hats?
(Plus Halloween Recipes, Movies, Books, Music, and Games)
Halloween is THE day to explore magic! So in honor of all you wizards and sorceresses, it is my pleasure to remind you today, on this sacred Feast of the Ancestors, JUST HOW IMPORTANT your pointy hat is! And why your forbears started wearing one in the first place.
Did You Know?
Did you know that Trick-or-Treating was originally a May Day tradition?
Or that our American tradition of leaving plates of cookies for Santa Claus, originated on Halloween?  
That's right!  Before weary folks went to bed on Halloween night in many countries (including the British Isles,) they would honor their ancestors by leaving a real, honest-to-goodness feast on the table, complete with all the place settings.
That's why Halloween (or Samhain, in the Pagan vernacular) became known as the Feast of the Dead.
What do these facts have to do with witch hats?
Absolutely nothing!
I just thought they were cool.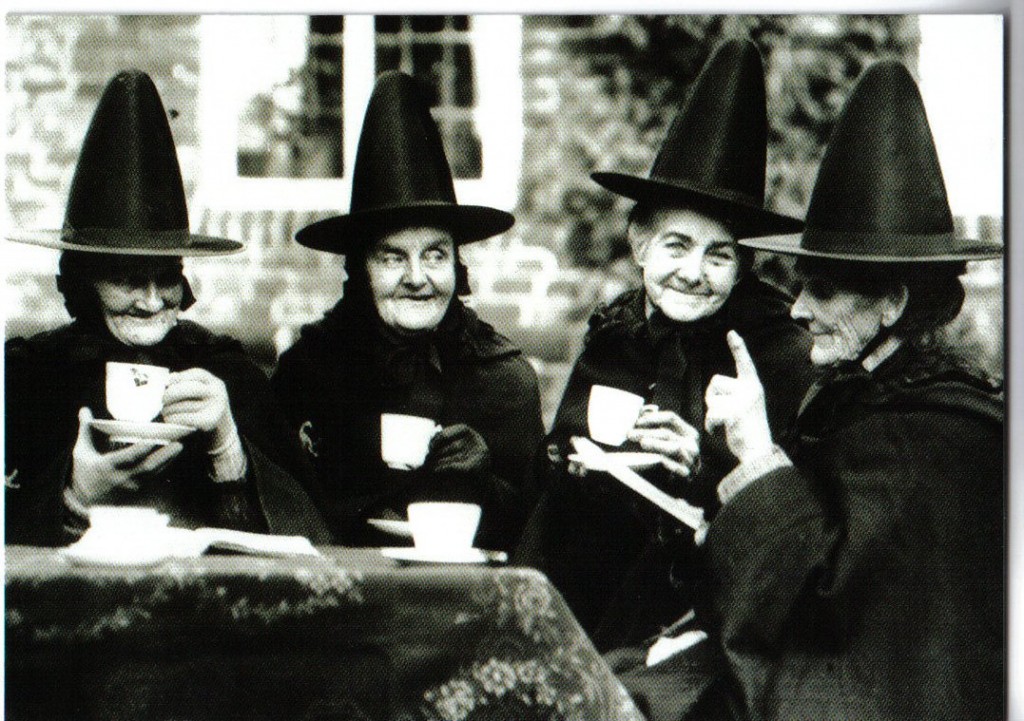 Conical of Power
In pagan circles, the witch represents the Crone, which is one of the three traditional aspects of the Goddess (the other two being the Maid and the Mother.)
Trick or Treaters are perpetuating some of the world's most ancient and revered traditions when they wear a witch's costume.
For instance:
The witch's tall, pointed hat was thought to utilize the geometrics of a pyramid to draw power down to the Crone's head (the crone being the wise woman of ancient villages).

The hat's flared brim was the vehicle by which the Crone sent out her power to do her bidding.

Her black dress represented the dark side of the Goddess's nature (dormant, nurturing, or "womblike," rather than evil.)

Her broomstick was the shaman's horse upon which she took her astral journeys, riding over the moon to other realities.
Adrienne's Favorite Magic Spell: "Wicky, wacky pickle dills, send me lots of dollar bills!" (Yep. Wrote that little jewel myself. Look out, Amazon Royalties Dept!) Want instruction for writing your own spells? Click here. 
Adrienne's favorite Halloween Recipe:  Chocolate Crackle Spiders. Yum! (Although I have to admit, "Rats Baked in Blood" isn't half bad.) Check out these awesome recipes by clicking here. Adrienne's Favorite Halloween Movie:  Sleepy Hollow, starring Johnny Depp and Christina Ricci. (Purchase the movie here.)Whoop! Apple-bobbing time! Even if the sun is just rising in your neck of the woods, It's not too early to get into the Halloween spirit! Check out the awesome recipes, books, games, movies, and music that you'll find in each "carousel of goodies" on this page.