Wonder Guy
A Paranormal Romance
by Naomi Stone
Y'all won't want to miss this fun new Paranormal Romance by Naomi Stone, who has graciously answered a bazillion of my interview questions, below.  PLUS!! Naomi has created a quiz just for the readers of Magic and Mayhem.  Want to win a prize? Be sure to answer her True or False questions, below. 
Sometimes True Love
Needs a Superhero . . . 
And a Touch of
Fairy Godmother Magic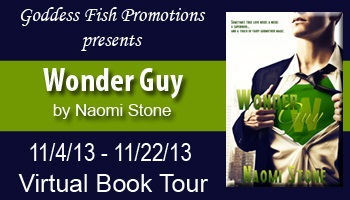 Greg Roberts has been in love with the girl next door since they were both twelve, but Gloria Torkinson is engaged to marry someone else. Greg can only respect her choice in the matter – until his fairy godmother pops in with a different idea. As a mysterious, masked superhero Greg can appear to Gloria in a whole new light and win her love. But super-heroing is trickier than Greg knew, creating its own problems and uncovering inimical forces in his world that he never suspected. He'll have to discover the true hero in himself before he can set things to right and win at love.  (Purchase Wonder Guy here.)
Naomi Stone's Quiz for Readers: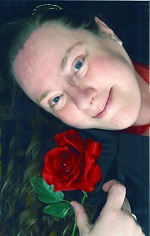 Instead of her "real-life bio," Naomi is testing ya'll on your superpowers of Intuition! (Or your research abilities on the Internet, if that happens to be your personal "superpower.")
True or False:  Two of the numbered statements, below, are false.  Tell us which ones in the Comments Section, below.  Naomi will be offering a prize to one randomly drawn commenter who answers correctly. Good luck!
1. Naomi Stone is a lawyer married to an advertising copywriter.
2. Naomi Stone's husband is purely imaginary, but really hot.
3. Naomi Stone has climbed mountains in Alaska and Colorado.
4. Naomi Stone performed at the Minnesota Renaissance Festival for four seasons.
5. Naomi Stone's alter-ego created a Discordian Coloring Book.
6. Naomi Stone is an accomplished harpist.
Interview with
Paranormal Romance Author
Naomi Stone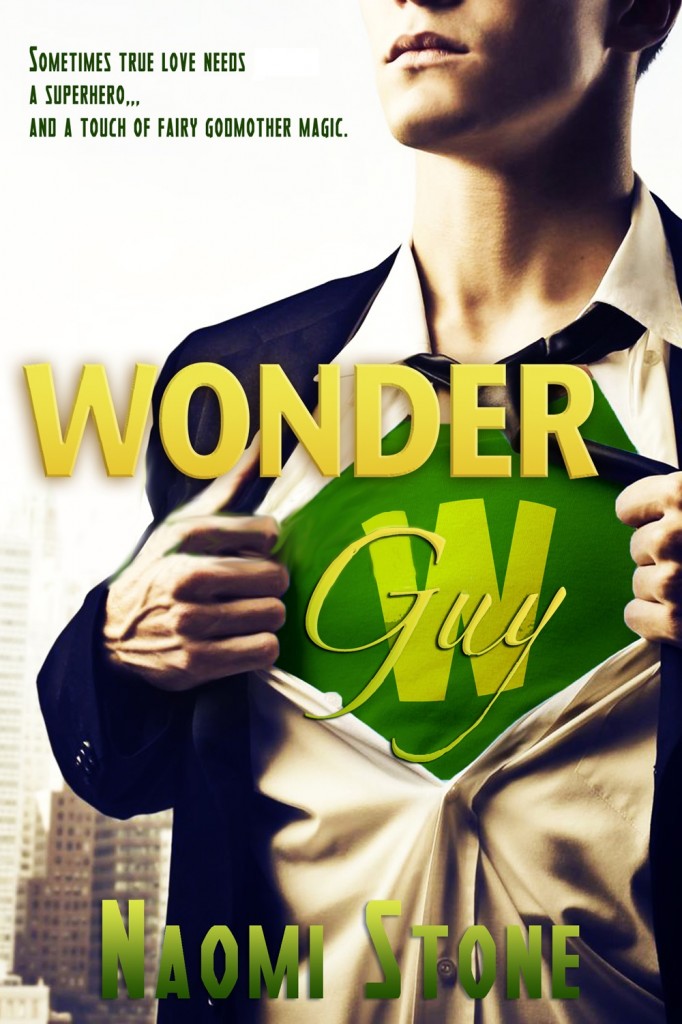 In the world of magic, what's YOUR super power?
I have the power to make others see, hear, and experience the things I imagine: I call it the power of communication.
How would you use your power for "good" in the world?
I can help people better understand different perspectives, allowing them to resolve differences and reach compromises without hostilities. Think about the old movie, Trading Places. A rich white guy and a poor black man get to spend some time taking over each other's roles, and in the process learning what life is like for the other person. All art is like that to some extent.
In visual arts, we see through another person's eyes and can be amazed at both how alike, and how differently people can see the world. In theater (and movies & tv) we gain a more objective perspective on emotions and relationships we may all experience. Books can be like a 'ride along' in another person's life. We can experience what it's like to play many different roles, to be the queen, the peasant, the rock star, the supermodel, the villain, the victim. We can get a sense of what it's like to live as a veterinarian on a western ranch, a research scientist in Alaskan waters, a divorced mother of two, a high-powered attorney, a superhero. We can only be better people for recognizing the humanity in every role.
Tell us where your idea came from for this book.
I've been involved in the science fiction fan community for many years and know a lot of very smart but socially awkward guys. Nerds. I've seen these guys left behind while the cute young women chose the duller, more conventional guys. I wrote this story because I wanted to imagine a happier outcome on both sides. I wanted the cute girl to recognize the hero in the person she takes for granted, and I wanted the nerd to recognize the hero in himself. I wanted to have a little fun with the whole notion of granting superpowers to a big nerd while strange magical forces present him with one impossible challenge after another – straining his logical faculties to the max.
Once I'd polished this story to its final draft form, I started looking for agents. Agents like stories they know they can sell and I'll admit Wonder Guy doesn't fit the usual genre types. It's not a paranormal. Fairy godmothers and superpowers don't usually fit in the same story. Where do you sell something like this? So when Savvy Author sponsored a pitch contest featuring editor Abby Rose from Lyrical Press, I participated and was thrilled when she requested the manuscript on the basis of my pitch and soon after offered me a contract.
How is writing a "super hero" different from writing about an every-day kind of hero?
Greg Roberts is an every-day kind of hero — to start with. He's a good guy: smart, principled, caring. He's the kind of guy who lives in an apartment over his mother's garage because she has MS and he knows she needs a helping hand now and then, even though she doesn't like to ask. Greg's problem is that he was Gloria's next door neighbor during the years they grew up together, and she takes him totally for granted.
Having superpowers brings out the best in Greg. Being principled and caring counts for more when you've got the power to act on those qualities in a big way. Before he acquired superpowers, it seemed to him that his best bet to make a difference in the world was to apply his intellectual gifts to solving technological problems – and it's debatable whether he might actually do more good that way, in the long run. With superpowers he doesn't have to hear about robberies and break-ins and murders and dismiss them because there was never anything he could have done to prevent the crimes. With superpowers, he doesn't hesitate to jump in and battle crime, even tackling a rogue elephant and a T-Rex.
Who are your Top 3-5 fictional Super Heroes and why?
I'd say Wonder Woman, ElastaGirl (The Incredibles) and Hiro (Heroes).
Wonder Woman is the original superhero role model for women. She's super powerful, but she's got a gentle manner and I love that she can deflect bullets and that her main weapon is the Lasso of Truth. How many crimes could be prevented or solved if only the criminals told the truth?
ElastaGirls's power is just cool. If only I could stretch as far as I wanted… I could flip switches or grab something to eat or drink without having to get up. Hmm. Maybe not a great way to get enough exercise. But I loved watching her in action in the movie.
Hiro impressed me as much for his sweet nature as for his impressive power to stop time and move through time. He was a fun character and his power was awesome. Stopping time allowed him to remove people from the path of danger without having to hurry, while the world stood still around them. He had the potential of going back and stopping a crime before it started, saving lives before they were endangered.
Who is your real-life super hero and why?
My friends and family are my real life superheroes. They have saved my bacon or helped me through some of the toughest times of my life. My critique partners took turns going to procedures with me when I needed eye surgery. My friends in the science fiction community have helped me move house multiple times. My brother Jon loaned me a car for months so that I could work a temp assignment way out of my normal neighborhood; he and his family took me in when I might otherwise have been homeless. My brother Dave has loaned me money and used his skills as a lawyer on my behalf. I've needed help so often in my life that I've felt pretty pathetic at times. I'd much rather be the superhero than the helpless damsel in distress, but it's sure nice to know who will step up when help is needed.
If you had an animal sidekick (or familiar), what would be its primary assignment in your life?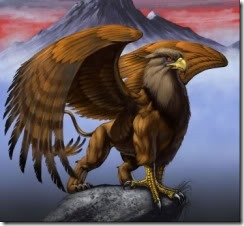 When I was in high school, a friend and I had a bit about our imaginary familiars. Hers was a unicorn; mine was a gryphon named Beogrunde. Beogrunde's main assignment in life was to keep me living up to a noble set of principles. He had high moral values and a very dignified manner. If he'd been human he'd have been a knight. As a gryphon, he could both fly like an eagle and fight like a lion.
Where is the most magical place in the world that you have traveled, lived, or worked?
It's a toss-up between Boulder, Colorado and Juneau, Alaska. I spent a summer in Boulder and another in Juneau. Both are places of gorgeous natural beauty. And both have a certain magical quality.
When I visited Boulder, I was interested in studying the spiritual teachings of the Sufis. I discovered that Reshad Field, author of a Sufi book I'd read, was teaching just blocks away from the place where I was staying. I attended several sessions there and found the experience an inspiring step in my quest for understanding.
I visited my sister in Juneau the summer after I dropped out of law school. I knew I didn't want to be a lawyer, but felt up-in-the-air otherwise. The people I met in Juneau were inspirational in themselves: a guy who'd been a child in Dresden when it was fire-bombed during World War II, free spirits from Hawaii who were 'house'-sitting the gold mining museum. I just missed Kurt Vonnegut, who'd been staying at the Baranof Hotel where I found work in the hotel kitchens.