Why Prophecy is Important to
Fantasy Fiction
By Ron Hartman
Ron will be awarding a $25 Amazon gift card to a randomly drawn commenter.  To learn more, follow the Rafflecopter instructions, below. 
It has been written in the stars… How many fantasy novels have been launched with that concept? Quite a few, I'm sure. In fact, as you could probably guess from the title, The Prophecy Chronicles has at its core a prophetic verse that drives the story.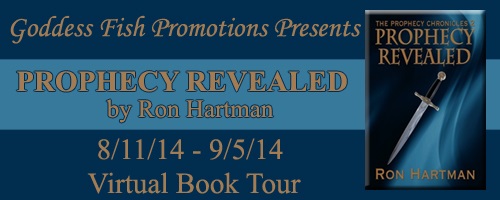 This brings up a good question—why is prophecy such an integral part of the fantasy genre? I think part of the answer lies in the promise. Prophecy, at its core, is really a promise that things will get better, that the good times will come again. Whether you're looking at something as timeless as the Bible, or something as contemporary as Harry Potter, both hold the promise of renewal.
Who among us hasn't had a time in our lives when it felt like we were hitting rock bottom? There's nowhere to go but up. But hey, cheer up, things will turn around again. Believe it. Isn't that the core of prophecy, too? Belief?
There was a great fantasy series written by Stephen R. Donaldson called the Thomas Covenant the Unbeliever series. The main character, Thomas Covenant, called himself The Unbeliever, because he refused to accept what his eyes were seeing. He was sure everything around him wasn't really happening, that it was all in his head. In that series also, there was a prophecy about a hero that would come, only instead they got an antihero, The Unbeliever. Of course in the end he did believe, and the prophecy was realized.
So we have the two edges of prophecy, like the two edges of the A-blade, a weapon Daniel Marten, the main character in the Prophecy Chronicles, carries but can't wield. On the one hand we have a promise of better things to come, and on the other hand we have the requirement that you must believe.
Now let's look at fantasy. Fantasy is really at its heart the promise of the fantastical, the amazing. Whether we're talking about one ring to bind them all, The Unbeliever, the boy that lived, or the Starburst Stranger (sorry, one more plug for Prophecy Revealed), we're talking about the extraordinary happening. You won't expect it. It will be a surprise, it will be amazing.
But, here's the kicker: you have to believe! No fantasy story is going to move you unless you believe what you're hearing. I once had an agent tell me he was unable to suspend his belief long enough to accept the concepts in Prophecy Revealed. I wasn't offended by his unbelief. After all, I'd been rejected by many agents in many ways while trying to get The Prophecy Chronicles published. What his words did make me think was, "Why are you working in fantasy?" If you can't suspend your disbelief, you may as well not pick up any fantasy novel, or really any novel for that matter.
Back to the question we raised at the beginning: what is the connection between fantasy and prophecy? The two terms are like twins, both ripe with promise, but only if you believe. Both can open amazing doors, but if you cannot "suspend your disbelief", then don't bother even turning the doorknob.
So what do you think? Can you suspend your disbelief? I promise I can take you on an amazing, a fantastical journey…do you believe me?
PROPHECY REVEALED
By Ron Hartman
Book Description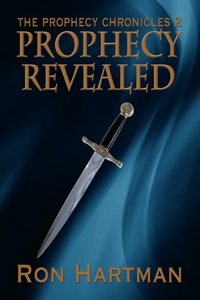 Daniel Marten crossed the Burning Sea and convinced himself that he is the Prophesied One. But what does that mean? In this second installment of the Prophecy Chronicles trilogy, Daniel forges new alliances in his bid to save Naphthali from the Emperor. He meets the Tene'breon, a magical race that has evolved to use the Weave as effortlessly as he breathes air. The leaders of this race recognize him for what he is…but they also see something more.
Naphthali has been dramatically altered by the rule of a new governor, a man whose power is tied to Daniel in a horrifying way. How far will Daniel go to save Naphthali? And what is the secret that binds his destiny with his new allies? Only time will tell in The Prophecy Chronicles: Prophecy Revealed.
PROPHECY REVEALED
By Ron Hartman
Book Excerpt
He heard a noise and turned to see Meadow Song walking across the map room at the tower's top. He walked through the double doors to greet her and was surprised when she pulled him in close, hugging him tight. His left arm wrapped around her waist and his hand slid up her back until it cupped the base of her neck. She tilted her head up as he leaned in and their lips brushed together. Her tongue darted in his mouth, soft and sweet, and a hot rush bloomed inside him as he pressed into her, responding to her need with his own. Barely registering over his desire, a part of Daniel's mind whispered, so different from Ashley. The feel, the taste…
He gasped and pulled away. Meadow Song looked up at him, her eyebrows raised. "What is it?" Her voice was low and husky.
Daniel hesitated before breathing, "I-I love you."
Her face lit with a soft radiance. "And I you. Why do you stop?"
Daniel's arm fell away and he stepped back. It was too easy to lose his resolve when he stood in her warm embrace. "I can't," he whispered. He closed his eyes and saw Ashley. "I may never see them again, but I can't betray them."
Meadow Song frowned before understanding dawned. "Ashley is a fortunate woman." Daniel's heart wrenched at the pain in her whisper.
About Ron Hartman
Ron Hartman has had a life-long passion for the written word and is an avid reader.  The Prophecy Chronicles are his first written works. The first in the series, Prophecy Foretold, was released in October of 2012. Prophecy Revealed is the second in the trilogy.  Ron graduated from the University of Iowa College of Pharmacy in 2000 and lives in Ottumwa, Iowa with his wife and three children.
Purchase Prophecy Revealed at Rogue Phoenix Press