I grinned when I learned that Fantasy author, Cassandra Lawson, got the idea for her new Vampire Romance novel in the middle of the night! Dreams can be such a fertile ground for the Muse to plant seeds! (I get my best material in the Dreamtime, too!)
Today, Cassandra graciously agreed to describe how she developed her new Fantasy Romance, Raven's Blood. Be sure to check out her book excerpt, and complete the questions in the white box, below, for your chance to win a copy of her ebook!
Weaving Mythology and
Fantasy into Raven's Blood
By Cassandra Lawson
Raven's Blood started with a vivid dream. This is the case with many of my book ideas. This particular dream was about chapter three, the one where Raven is captured by vampires. I woke up excited and annoyed. The excitement came from having a fun dream that I knew would evolve into a book.
Still, it annoyed me because the dream didn't make any sense. How could Raven trade her freedom for that of her human friends if she had also been captured? Obviously, she needed to be something more than human. The dream also left me with a vampire dilemma. The vampires from my dream seemed more like traditional vampires and I like my vampires to be a little different.

I decided to focus on Raven first. When creating the story surrounding Raven, it was difficult deciding which creature out of fantasy to use. The idea of using a faerie appealed to me, but none seemed right.
Next, I looked into Native American folklore. This seemed like a logical choice for a story set in the San Francisco Bay Area. Sadly, I found nothing that fit with the image I had of Raven in my mind. I wanted someone connected to nature. She also needed to be very in touch with her sexuality. It was also important that she have a human father.
Finally, I went to one of my favorite sources, Greek mythology. If you're looking for mythological creatures that mate with humans, Greek myths are the place to go. Obviously, I took quite a bit of poetic license when creating the world for my wood nymphs and their background. I don't read fantasy so this part of the process intimidated me a little, especially creating the areas of the woods that are only visible to the wood nymphs.
With my wood nymph created, it was time to move on to my vampire dilemma. Now, I love the folklore and legends surrounding vampires, but I always feel that they are a bit overused.
As a result, I like to come up with a different twist for my vampires. In Raven's Blood, there are two types of vampires. The turned vampires follow a more traditional vampire theme and are inspired the most by traditional vampire legends. The turned vampires also have an almost zombie-like nature. They are undead, survive on blood, and are mindless killers.
The born vampires are, for the most part, a creation of my own. While they share some of the traditional traits of vampires, the need for blood, superhuman strength, great speed, and a heightened sense of smell, they are alive. In this dystopian society, the born vampires are the ones who built a new government and established trade with other countries. They are the ones in charge.
I will admit that I had doubts about the wisdom of mixing vampires and wood nymphs. In the end, I felt that Raven and Connor were a perfect match. As the story progressed in my mind, I was even more convinced of this. In future books, I plan to bring more creatures from fantasy and mythology into the world of the Moon virus survivors. You can expect to see shapeshifters, sprites, and witches, just to name a few.
Raven's Blood
By Cassandra Lawson
Book Description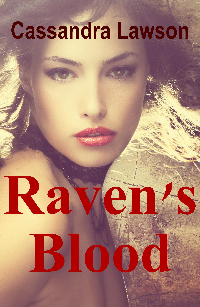 Following the death of her wood nymph mother at the hands of vampires, Raven worked hard to build a life for herself in one of the few remaining human settlements. Her life takes a frightening turn when she finds herself an unwilling guest in a vampire settlement, but things are not anything like she expected them to be. Still, she cannot help but feel that her attraction to the vampire leader is a betrayal to her mother's memory and her human friends.
From the moment Connor first laid eyes on Raven she has thrown his entire world off-balance. In order to prove his strength as a leader, he has no choice but to take her up on her offer to trade her freedom for that of her human friends. Having begun his life as a slave, he has no interest in keeping the wood nymph captive. As a man, he has no desire to feel this overwhelming attraction to a woman who hates him and his kind.
As Raven spends more time with the vampires, her feelings for Connor grow even stronger and Connor finds that she may be the one thing he cannot live without. Unfortunately, a new danger emerges that could threaten the survival of vampires and humans alike. As Connor struggles to unravel the mystery of the attacks from a new species of vampire, a madman will go to any lengths to get Raven's blood.
Raven's Blood
By Cassandra Lawson
Book Excerpt
Connor was shocked when Raven took off. She skipped the overgrown trail and headed straight into the trees. He followed her, awed by her graceful movements. If he'd been human, he never would have been able to keep up with her. With each step she seemed to gain strength.
Connor finally caught her arm. "Slow down some, little nymph."
"Why?" she asked with a radiant smile. "Are you having trouble keeping up with me?"
Connor stepped in closer to her body and leaned in until she was trapped against a tree by his much larger body. Her gasp made him smile. She had obviously noticed his erection pressed against her belly. "Vampires get excited by the chase," he said. "It weakens my self-control."
Her eyes widened. "I thought you said you didn't want an unwilling partner."
"I don't," he said. "That's why I would have to lay you down on the ground and lick every inch of your sweet body until you begged me to take you."
Her pulse quickened and Connor couldn't resist the temptation to lean forward and run his tongue across it. That made him even harder and he hadn't thought that was possible.
Damn, but she seemed to be considering letting him do it. The green tint to her cheeks deepened. Never in a million years would he have guessed that green tinted flesh would be a turn-on. This hadn't happened before so he assumed it had something to do with her proximity to nature. He suddenly wondered if other parts of her body flushed green when she was excited. Damn, he really would love to strip her naked and find out.
Finally, she let out a shaky breath. "Sorry, I'll move slower."
He released her and adjusted his jeans. "We need to stop for a minute so I can get things under control," he said.
"I'm sorry," she said nervously. "I wasn't trying to do that to you."
"You never are," he said mostly to himself.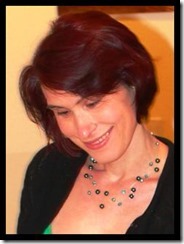 About Cassandra Lawson:
Cassandra Lawson is an author and homeschooling mother of three from the San Francisco Bay area. She has always had a very active imagination and loves making up stories. When she is not writing she enjoys baking, spending time with her family, listening to music, or curling up with a good book.
Follow Cassandra Lawson