Welcome bestselling YA Steam Punk author Barb Taub! She's the author of the wildly popular (and funny!) Null City series (which might also be considered Urban Fantasy for young adults.) Today she wrote a HILARIOUS guest post for us titled, "Super Powers Suck." (Oh yeah. You won't want to miss this column!)
Barb and her not-so-anonymous co-author, daughter Hannah, write fiction for teen readers who love fantasy, romance, and the paranormal (which is another reason why I'm officially a new fan of Barb and Hannah.)
Don't Touch
By Barb Taub
Book Description
Hope flares each morning in the tiny flash of a second before Lette touches that first thing. And destroys it.
Her online journal spans a decade, beginning with the day a thirteen-year-old inherits an extreme form of the family 'gift'. Every day whatever she touches converts into something new: bunnies, bubbles, bombs, and everything in between.
Lette's search for a cure leads her to Stefan, whose fairy-tale looks hide a monstrous legacy, and to Rag, an arrogant, crabby ex-angel with boundary issues. The three face an army led by a monster who feeds on children's fear. But it's their own inner demons they must defeat first.
Superpowers Suck
(Or:  Why It Would Have Been Nice if They Told You the Angels Were All On the Other Side)
By Barb Taub
My daughter Hannah and I have this tiny little life-altering addiction to superhero movies. Okay, we'd probably starve to death with chocolate only a room away if a Marvel hero was in front of us. (Except Hulk, of course, because that would be just wrong in so many ways, starting with the costume.) But in general, give some guy a spandex outfit and a mask and he owns us.
One night we started talking about superheroes with awkward powers. Let's say you are the Man of Steel, but you don't dare have sex with Lois Lane because your LittleMan of Steel could quite probably split her in two. (And we're not even going to discuss the havoc your Swimmers of Steel could wreck on Woman of Pasta…)
The point is that when you think about it, most people with special powers would be lining up to get their normal lives back. That's where Null City comes in. It takes our fantasy worlds and turns them into everyday life. After one day there, those with extra gifts turn into their closest human counterparts. Imps, for example, become baristas. (Of course, they're now ex-PhD candidates in literature or classics who claim to be experts on third-world coffee blends and obscure world music groups. But hey – there is only so close to human that hellspawn can get…)
And then what? What if you're one of the superheroes going about regular human lives as plumbers and realtors and smartphone app developers, and someone pulls the plug on your city? The dogs you're walking turn back into third-generation hellhound/toy poodle mixes. (Hoodles?) The kids you're babysitting turn out to be part witch, part dragon, and part Minnesota Lutheran and start conjuring golden hotdish casseroles and flying jello molds. And after several generations of backyard barbeques and poker nights, noody's spandex fits anymore.
My daughter Hannah (aka obsessive cowriter) and I talked about Null City for her last year of highschool. The one thing we couldn't figure out was who the villain would be, when everyone is a hero. The problem with heroes, though, is that they don't all have the same goals. What if each group – angels, superheroes, and just plain humans – is willing to do whatever it takes to make their right thing happen? So Hannah headed off to University in Scotland and I headed to my computer. One year and many hours of video chats later, the first Null City book, One Way Fare, was published by Taliesin. Its backstory is the founding of Null City. In the second book, Don't Touch, the backstory is the Metro train, Null City's connection with the outside world. Book three, Round Trip Fare, explores what happens when saving Null City might mean destroying the world.
Don't Touch
By Barb Taub
Chapter Excerpt
WORST. Day-After-Birthday. EVER.
LiveJournal, January 20, 2003 by LetteS
Yesterday was my birthday (13!) so Mom said I could start this LiveJournal blog if I keep it private. But I never thought I would start my first post by saying that this morning at 6:15AM I found out I am a freak.
After all the birthday presents and cake, last night when I got into my (brand new!) loft bed I was a normal, neurotic (isn't that a great word?) angst-filled (I had to look that one up too) new teenager. Then my alarm went off this morning. I woke up, and I could feel colors. Through my fingertips.
Yeah, I know: so freak. My fingers were touching my new quilt, and even though my eyes were still closed, I could feel vermillion, titian, and bittersweet. Who knew those were even words, let alone colors? I walked around my room with my eyes closed and fingers out. Dresser? Sienna brown. Mom's evil cat George? Atrous black and niveous white. Walls? Glaucus blue (which sounded a lot better as "tropical lagoon" on the paint chip card).
Lamest. Superpower. Ever.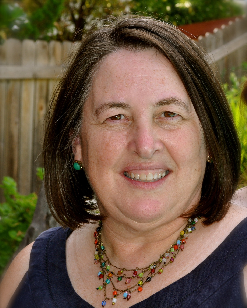 About Barb Taub
In a former life, Barb Taub wrote a humor column for several Midwest newspapers. Now living in an English castle with her prince-of-a-guy and the world's most spoiled AussieDog, she enjoys translating from British to American, travel, and collaborating with daughter Hannah on the main volumes of the Null City series.
Follow Barb Taub