BITTER SNOW is Utterly Captivating
"We are the rulers of Midwinter. In the most powerful cold of the winter, in the deepest dark of the year, we hold sway, and all of your hearth fires cannot stand against us. We are the winds that howl down the chimneys and extinguish your candles. We are the northern lights and the hungry wolves; the bitter crack of ice and the killing frost. The raging blizzard and the deep, soft, final sleep of those lost forever in the snow."

You KNOW Lauren Sweet's Bitter Snow series had me enthralled ~ otherwise, a sun-loving Texas gal like me wouldn't be so excited to share this Young Adult Paranormal series with you. 
(I mean, I had to shovel snow out of a GRAVEL DRIVEWAY as a kid.  Need I say more about my feelings about the white, wet, frozen stuff?)


Lauren's Bitter Snow series totally rocks! Be sure to snatch up each and every book.  Here's what Lauren says about her books:
"Bitter Snow is a modern retelling of the fairy tale "The Snow Queen," in nine novellas. It's my all-time favorite fairy tale, about a girl's quest to save her childhood friend from the evil Snow Queen, through her courage, determination, and the strength of her love for him. Each volume is about 80-90 pages (32,000 words). The next three installments are scheduled for release in spring/summer 2014, with the final three to follow later in the year."
Win Gilly's Necklace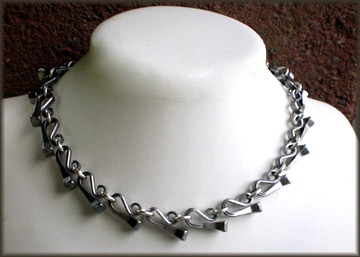 In folklore, iron protects against the influence of evil spirits. This gorgeous, handmade creation is a replica of the heroine's necklace in Bitter Snow Volume Two: Dark Solstice.  The design is made from real horseshoe nails and sterling silver by Connie Pardini of Wirestorm Creations.  Gilly wears the necklace to protect herself from harmful spells and illusions. (Open to US Shipping, retail value of necklace $80) To be eligible for the prize, be sure to leave a comment AND follow the instructions in the white Rafflecopter box, below.
Bitter Snow
By Lauren Sweet
Book Description
Whatever you do, don't open the door.
All Gilly Breslin wants for her sixteenth birthday is for her best friend Kai to see her as more than just the girl next door he's known forever. So when she receives a mysterious, romantic invitation to meet him at midnight, she knows she has to go.
But it's St. Nicholas's Eve, the ancient festival of Bellsnichol, when demons roam the dark winter landscape. Tradition demands that everyone in the tiny town of Bremerton stay inside, doors shut tight against evil.
Gilly thinks it's just a quaint old superstition. She has no idea that a malevolent power has been unleashed in Bremerton—with Kai as its target. But when she answers her door at midnight, her romantic date turns deadly…and she's drawn into an ancient web of fear and darkness that threatens everything she loves.
Bitter Snow
By Lauren Sweet
Chapter Excerpt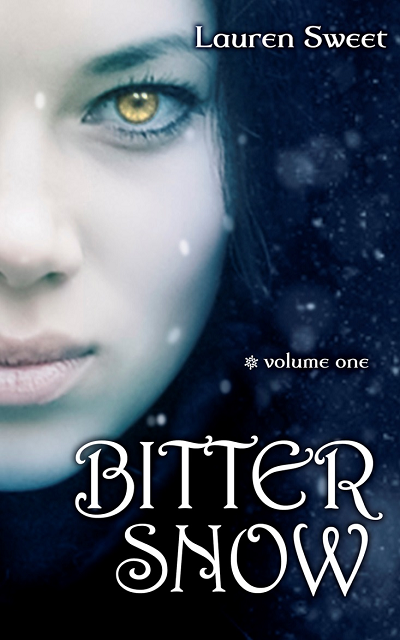 At three minutes to midnight, yells and demon howls erupted right outside my house. Feet stomped on the porch—lots of them—and then there was a thunderous knocking on the door.
Damn. It couldn't be Kai—he would have slipped off alone to meet me. There was no way he'd bring a bunch of half-drunk boys to my birthday celebration. But that didn't mean he hadn't been followed.
They howled again, pounding. Someone whose voice I didn't recognize yelled, "The Demons of the Winter night are here! Let us in, sinner, that we may feed on your wicked soul!"
Oh, crap. That wasn't in the script—at least, I'd never heard it before. I suddenly realized they could see the lights on, but there was no food or drink on the porch. Was this what they said when there were no offerings? Or when they found someone home alone—someone who didn't have the protection of people around them? I suddenly felt scared.
They're just boys, I told myself. Boys I know. It's only an old tradition. Nothing to be afraid of.
But I was glad the curtains were closed and they couldn't see me. They didn't know for sure I was here. If I didn't answer, they'd get bored and go away.
There was more howling, and then I heard them scrabbling at the windows. I suddenly felt exposed—as if they could sense my presence, somehow. As if they could smell me.
They pounded again, and common sense took over. This was stupid. I wasn't afraid of a bunch of teenage boys. I walked to the door, put my hands on it the way Mr. Kehrer had, and shouted, "We have no outcasts here. The doors of this town are closed to you. You've taken our offerings to feed your hunger. Now begone!"
If they could get untraditional, so could I.
I finished the speech and listened. I heard hoarse, guttural laughter, and something scraped across the door, right under my hands. I almost screamed, but choked it back. Heavy footsteps shook the porch, and then there was a crash, as if someone had tripped over one of the planters. I jumped, but for some reason I didn't want to take my hands off the door. I listened for sounds that they were moving off, but heard nothing.
I stood there, palms against the door, not knowing what to do. There was no way I was opening the door to look out, and going back across the room to the couch would make me feel too exposed. I felt like I was in a horror movie, in the moment of silence when it looked like the zombies were going away—right before they crashed in all the doors and windows at once. I held my breath.
No more stomping came from inside. Instead, there was another knock on the door, right between my hands. And a voice called out.
Kai! He sounded hoarse, but it was definitely his voice, with the ripple of laughter it always had when he was pretending to be serious, and trying to keep a straight face.
"It's the Demons of the Winter Ni-ight!" he called in a weird singsong. "Open the door, so we can celebrate with feasting!"
Relief shot through me. My knees suddenly felt weak, the way they do when you've been really scared and then suddenly you're not. I grabbed for the doorknob, fumbling a little, still shaky from adrenalin.
"Coming!" I yelled.
And then I did something I never should have done.
I opened the door.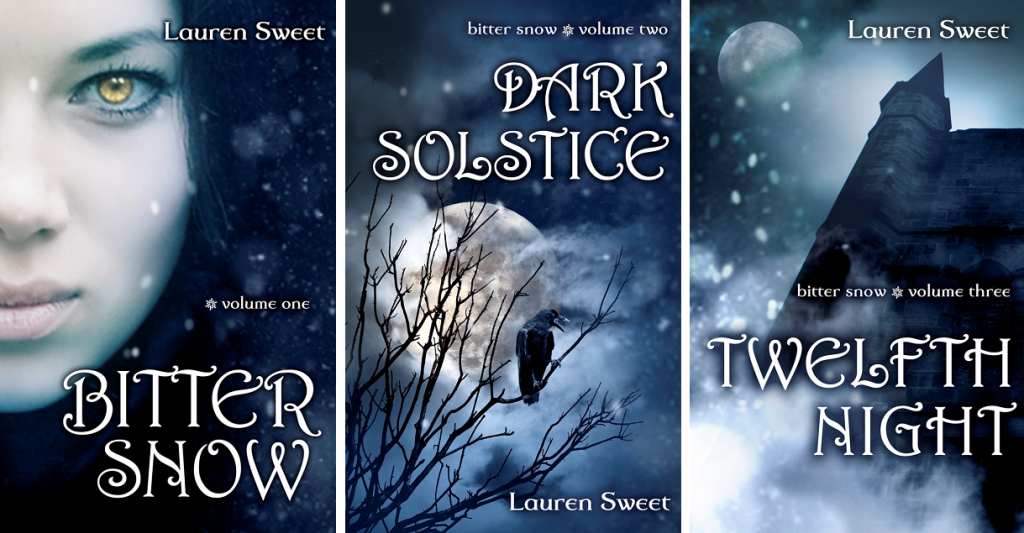 About Lauren Sweet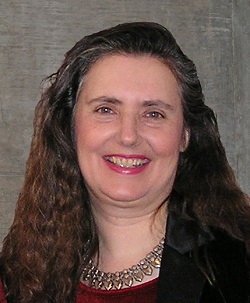 I was born and raised in New Jersey, and books were a big part of my childhood. When I was about three and a half, I became obsessed with a Little Golden Book about a goat that gets a bucket stuck on its head. Since no one would read me the goat book as often as I wanted, I learned to read it myself—and haven't stopped reading since. It was only inevitable that I turned to writing, so I could create more of the kind of stories that I like to read!
My favorite genres are mystery, sci-fi and paranormal/fantasy. I've always been fascinated by myths and fairy tales, and I love incorporating elements of ancient lore into modern stories. I have a Master of Fine Arts degree in Creative Writing from the University of Alaska Anchorage, and I currently live near Portland, OR, where I am a freelance writer and editor. My other esoteric skills include astrology, figure skating, and the ability to do a perfect split.
Follow Lauren Sweet
Purchase Bitter Snow