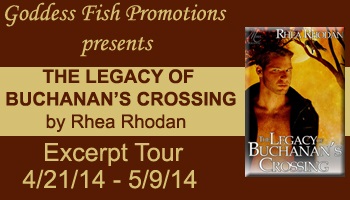 Welcome rising Indie star, Rhea Rhodan! Rhea won the Editor's Top Pick Award from her publisher, Musa Publishing, for her debut novel, Finding Grace. 
But today's post is devoted to Rhea's new witchy, Fantasy Romance, The Legacy of Buchanan's Crossing.  In fact, Rhea has selected an exclusive excerpt for readers of Magic and Mayhem, so be sure to check it out!
Rhea is awarding a $30 Amazon or Barnes & Noble Gift Card to a randomly drawn commenter during the tour. (Hint: Your chances of winning will increase exponentially if you leave a comment at each stop on her tour.)
The Legacy of
Buchanan's Crossing
By Rhea Rhodan
Book Description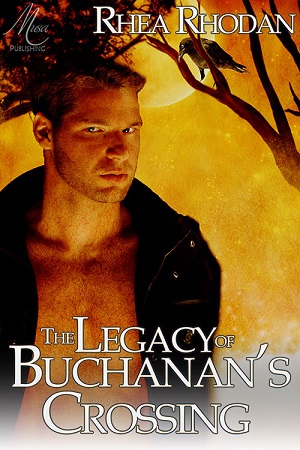 What price will destiny demand?
Warding the Crossing has always been Cayden Sinclair's destiny. With her beloved Gran growing weaker, it's time the little witch took her place. Juggling substantial curves for her frame and an inconvenient inability to control her power has always been a serious challenge. But not until discovering her fated Keeper is the extremely hot, tragically clean-cut insomniac who's ignored her for months, does she truly fear failing her legacy.
Now that he's finally on the road to the top with an offer from a big developer, Clint MacAllen can't allow his struggling construction company to be threatened by a vicious nightmare, or his inexplicable attraction to a goth clerk working the graveyard shift at HandiMart—no matter how potent they are.
J. Milton Developments has its own agenda for Buchanan's Crossing, and they'll spill blood to get it.
The Legacy of
Buchanan's Crossing
By Rhea Rhodan
Book Excerpt
"You'll be wonderin' now, about the magic of the Keeper's ring, and how Alaister used it to serve the Crossing. He was, after all, in no position to protect any arse but his own, and not much help there."
Drawing out the drama was part of the telling. If Cayden hadn't already known, she'd be dying to know by now. As it was, she was well aware her inability to get the ring on Clint's finger was her biggest failure of all.
"To the small-minded, seeing the all of a thing, kenning it in your soul, may not seem the great power it is. But our Alaister, bein' a Buchanan, therefore a brave and clever lad, reckoned well enough that in wartime, to ken a lie or a truth untold in a prison full of soldiers is to hold a chest full of worthy secrets. At the start, he used them to keep peace among the men. After a bit, the jailer came to trust him, then the officers. At the last, he was able to catch the Loyalist traitor in a bold lie and saw him hanged."
Gran paused, lifted the dainty tea cup to her lips, and took a long sip.
"Who, Gran? Who was the traitor?"
Gran continued, unperturbed by Cayden's interruption. "In gratitude for his aid, Alaister Buchanan was deeded the land to the prison when the war was done. He built his home right here." Gran thumped her cane on the floor. Cayden hadn't noticed it earlier. Gran hadn't used one before.
It snapped her back to the present. Gran too, apparently, because the next thing she said was, "The answer to your question is more important now than it was then."
About Rhea Rhodan: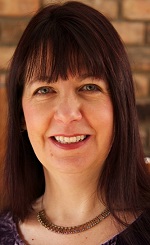 Rhea Rhodan resides in Minnetonka, Minnesota, and has been telling herself stories since long before she could write. She attended the University of Minnesota with a focus on Journalism, then Brown Institute for Broadcast Journalism. After many adventures, misadventures, and a couple of short marriages, she found the love of her life in Regensburg, Germany, and has been living happily ever after since.
She journaled those adventures extensively (some might say rabidly) beginning in middle school, but didn't combine her writing and story-telling until several years ago, when one of the stories grabbed her by the throat and shook her like a rag doll until she gave in and wrote it. Having tasted freedom, her muse refuses to return to the confines of her head, and has successfully turned the tables, keeping her at the keyboard to appease it.
Her stories always had a twist of magic or a touch of the paranormal. Why the romance? Because she believes in happy endings, and helping people imagine them helps them create the magic to find their own.
She welcomes feedback and fan mail :>). You can join her on Facebook and/or Goodreads, too. Rhea is always happy to meet new friends.
Follow Rhea Rhodan:
Purchase The Legacy of
Buchanan's Crossing: