Ever wonder if dragons might be real?  Or why the Ancients used to believe so fervently in fire-breathing Saurians?
Enter Nancy Lee Badger, an author of Fantasy and Paranormal Romance titles, and an unofficial expert on Dragonology (the study of Dragons, of course!)  Nancy has written a guest column, featuring some fascinating facts about the Reptilian Rex, plus she has graciously offered a special treat to one lucky reader who "Talks Dragons" with her today.  To become eligible for the prize, be sure to leave a comment and follow the instructions in the white box, below.

Dragons Among Us
By Nancy Lee Badger
Ancient Celts considered dragons proof that sacred or mythological places existed. To discover a dragon's lair meant the hope of riches; gems, jewels, or gold. Their caves, if aligned with ley lines, were indicators of places of great power.

What is a ley line? It is a straight fault line in the earth's tectonic plates; this is a scientific fact, but I only recently heard of this term. Research led me to dig deeper. What I learned surprised me the moment I discovered that in Europe, the ancient druids called them mystical lines, and others called them dragon lines because in mythology, Gods flew on dragons along these lines. The Celtic term for ley lines roughly translates to 'The Path of the Dragon'. Dragons, Druids and Celts are all inextricably linked by these bands of power.
Did you only think that dragons were legendary creatures typically pictured with serpent-like or reptilian traits? From Cirein Croin, a sea serpent, to the wingless Beithar who haunted the quarries and mountains around Glen Coe, to the infamous Loch Ness Monster, dragons have interested me and factored into my writing.
The Loch Ness Monster, though a legendary creature of the cold, deep waters of Scotland's Loch Ness, is classified as a dragon. Tales of Nessie date from the sixth century and the druids, ancient priests, used dragon lairs or caves for their magic. The Scottish coast has dozens of islands. Many sport caves large enough to conjure thoughts of dragons asleep on top of their riches. The Loch Ness dragon has become a famous tourist attraction in Scotland and some consider the rarely seen mythical sea creature a stranded dragon.
One can find dragons in many modern books and movies. Coins, statues, and country flags sport stylized images of dragons. Many paranormal storylines include shape-shifters. These dual-personalities lend writers great flexibility in entertaining their readers with 'What if?" Several of my novellas have either the hero or heroine as a shape-shifting dragon. DRAGON Bites, my latest release, includes Dragon in the Mist, Dragon's Curse, and Southern Fried Dragon and is available in e-book and print. Each novella has a shape-shifting dragon looking for love.
For more information concerning dragons and dragon lore, check your local library, book store, or these websites:
Dragon in the Mist
Award-winning Novella
By Nancy Lee Badger
Chapter Excerpt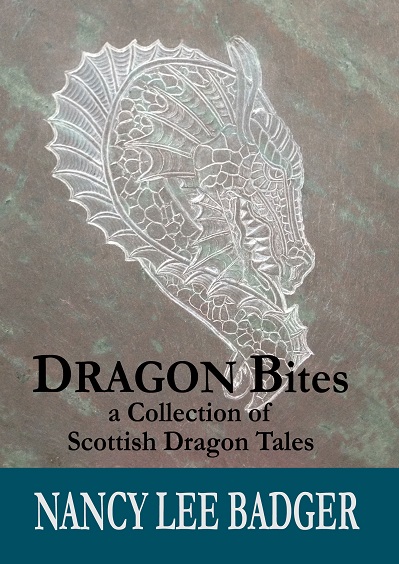 A delicious, familiar scent drifted in on the breeze…followed by the sickly odor of stale perfume.
"The Americans." The three people walked past the pub with their small backpacks. They reminded her of two-legged draft animals. The women wore something flat on their feet, no visible socks, and shorts that reached only to mid-thigh.
Disgraceful. I hope they freeze off their private parts.
Rory, the most sensibly dressed of the trio, talked to the women. They did not glance toward the pub's open doors. Why should they? She hoped Urquhart's crumbling walls suffered a natural earthquake, and flattened the trio by noontime.
What could they possibly have in common? And, what is he telling them? The girls looked a little bored, and the redhead struggled with her tiny pack. Rory, of course, stopped walking long enough to reach over and remove it from her back, then slide it over his shoulder.
Nessía leaned forward and willed her human ears to listen, hoping her dragon sense of hearing worked as well on land as underwater.
"Rory, you're mistaken. We'll be fine," the little redhead cooed.
"Bikini tops, short shorts, and flip flops are not appropriate. Don't get me wrong," Rory smiled, "I like the view, but don't bitch when the wind blows through the castle and freezes your asses off."
Nessía covered her mouth to hide her smile…just in case Rory looked her way. Do I want him looking my way? The thought intrigued her, yet she knew nothing could come of it. He was transient. A foreigner, here to hike, play, and enjoy the area. A handsome visitor who planned to waste his time checking out the earthquake conundrum. Then he would head home and disappear forever.
She had set her sights on finding a local man whose love could lift the curse. Nessía knew such a plan was the only way to spend the rest of her life as a normal human female. To accomplish this, she needed someone other than a handsome American male on vacation.
I will never leave Loch Ness.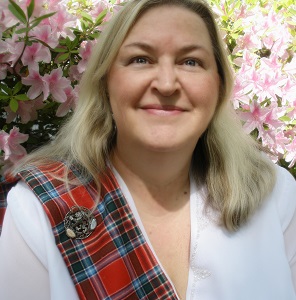 Nancy Lee Badger
Nancy Lee Badger loves chocolate-chip shortbread, wool plaids wrapped around the trim waist of a Scottish Highlander, the clang of broadswords, and the sound of bagpipes in the air. After growing up in Huntington, New York, and raising two handsome sons in New Hampshire, she moved to North Carolina where she writes full-time. Nancy is a member of Romance Writers of America, Heart of Carolina Romance Writers, Fantasy-Futuristic & Paranormal Romance Writers, Triangle Area Freelancers, and the Celtic Heart Romance Writers.
Follow Nancy Lee Badger
Buy Dragon Bites