Welcome Young Adult Paranormal Romance Author, Livia Olteano! If you've ever thought a love affair with a dragon might be "hot," you won't want to miss Dragon Craving, Book 2 in Livia's Otherworlds Summons series. (Book 1 is Gargoyle Addiction.) 
Livia has written a fun post for us today, "5 Tips on How to Tame Your Guardian Dragon." Don't miss the humor, below! (I especially like the part about tossing around his jewels, acting unimpressed! LOL!)
Note to readers: Dragon Craving is classified as Erotic Paranormal Romance.
Win a Copy of Dragon Craving
Throughout her book tour, Livia is giving away up to 10 ebook copies of Dragon Craving.
  To be eligible to win, follow the instructions in the white, Rafflecopter box below.
How to Tame Your Guardian Dragon
By Livia Olteano
A fiercely independent and possessive creature, your dragon wants to own you, not be tamed. Tame him and you'll have him forever. Here are five simple steps to take for satisfaction guaranteed.
5.
He wants all his riches locked up under his careful supervision at all times. Offer to wear a traceable device when you're leaving his cave (dungeon, if you're less lucky and he's into bondage – in that case, try praying real hard, because only a miracle will ever help you see the light of day again…). If the traceable device doesn't work, negotiate to install cameras in your apartment, car, bra – but leave his space without him, it's a must. Nothing will keep his eye on the ball better than shortly depriving him of his most yearned for possession – yourself.
4.
If neither the traceable device nor cameras tactic works, try the exhaustion tactic. Though a highly suspicious creature, he will always rise to the bait of boasting about his riches. Provoke him into weighing the amounts of gold he owns, wound his pride on the number of jewels he possesses. He will spend hours recounting, rearranging, polishing off his treasures to prove you wrong. Once he's exhausted, steal the piece he polished the most and hide it away. You'll need some leverage when making your next demand, and there's nothing a dragon values more than recovering his goods.
3.
Threaten to never give him back the treasure you stole if he won't let you go. Once he does, stay out for at least four hours – make him sweat real good worrying. Come back in a different outfit, a sexier one, and be as cheerful as you can. When asked why the sudden change in mood, be evasive and deflect like a boss. Refuse to give him back his treasure until he makes it worth it for you – a dragon will always want to make a deal. Never let him make one that favors him, even if you have to negotiate for hours. Nothing ruffles his whiskers as much as being outsmarted in a deal. While negotiating, take off random parts of your outfit under the pretense of feeling too warm. Break his focus with every sexy chance you get, tease him relentlessly but never give in to actually getting within his pawing distance. When he gets too focused on your sexy, tease his negotiating skills to keep him on edge, always.
2.
Once a deal favoring you has been struck, take off the rest of your clothes but stop at your sexy lingerie. Strut around his domain caressing his treasures, playing with his jewelry and tossing around parts looking unimpressed. Wonder aloud if any of this is worth the waste of your time. Remind him what a good time you've had when you were out, without him, outside of his supervision. Watch the veins at his temples throb and smile sweetly each time he glares. Don't worry if he puffs out his chest and tries to convince you he's the best guardian you could possibly get – it's a sign he's close to caving.
1.
Now that the treasure you stole is worthless, toss it at him and ignore whatever he says or does for at least one hour. Keep strutting around in your lingerie. When he finally begs to touch you, grin and let him enjoy his most prized treasure – yourself.
Congratulations, your dragon is now fully tamed and at your mercy.
Dragon Craving
by Livia Olteano

The world holds few secrets for Oracle Elana Anderson, or as her fans know her, Ela Deville. Successful author of paranormal romance, Ela, has a secret: not all her paranormal characters are quite that fictional. She hardly expected she'd trigger a chain of events that might bring about the end of the world via a pesky dragon. Rendered blind to visions of him, Ela's only way to save her world is to keep the dragon close…very close.
Obitus, the only awake dragon in the Otherworlds, is determined to get back the magic that was stolen from him and secure his position for a good thousand years. Becoming Akai's new guardian after getting rid of the current one is the best way to it. But that means getting Ela on his side. He'll bargain and maneuver his way there if he has to, but ends up tormented by the desire to have her for real.
In a game of deals, half-truths and irresistible cravings, does one heart have to break in order for the other to save the world?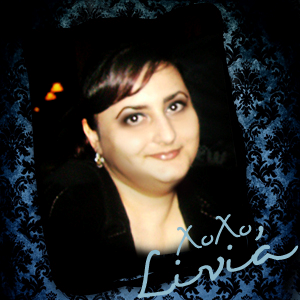 About Livia Olteano
Livia lives in Europe where she listens to obscene amounts of music and devours every reading material in sight. When she's not doing either of the two, she fiddles with anything remotely customizable within reach. She spamificates the world online via:
---