Cuddle Up with a Hot Werewolf:
Welcome Author Judy Teel
Welcome Young Adult Fantasy and Paranormal Author, Judy Teel!
I just love Judy's writing style. I confess, I'm a new fan of her tough-girl PI, her vamps and her werewolves! (Shapeshifting wolves are my personal fave. Must be my name, or something.)
Judy shared some GREAT excerpts with me from her new book, Shifty Magic. The trouble was, I was only allowed to pick one to post for ya'll to read! I hope you like it as much as I do.



Comment and
Win $25!
Judy will be awarding a $25 Amazon Gift Certificate to a randomly drawn commenter throughout her blog tour. So be sure to follow Judy and say "howdy" at each stop on her tour — including this one! The more times you comment, the better your chance of winning.
By the way:  if you want a shot at winning, you also have to enter the raffle in the white "giveaway" box at the end of this post.
Shifty Magic
by Judy Teel
"Some people will do anything for revenge."
A tough PI struggles to track down a vengeful serial killer only to discover that the murderer holds the key to her secret magical heritage.
Shifty Magic is Book One in the YA13 paranormal/mystery series Dangerous Magic by Judy Teel. "Expect action, on-the-edge-of-your-seat suspense, and the perfect touch of romance."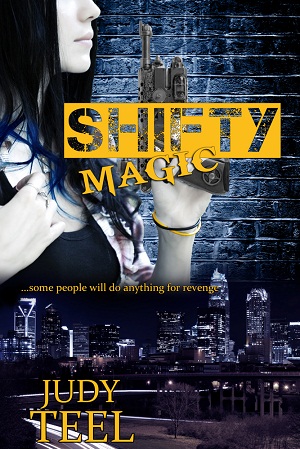 Chapter 
Excerpt
I inched forward, far enough to see past the end of the alley and into the loading area of the abandoned Walmart. Only one stubborn streetlight on the other side of the broken security fence cast its inadequate glow across the cracked asphalt. Shadows pushed around the edges of the open space, deepening where they cluttered up against rusty dumpsters and smashed crates.
My heart thudded against my ribs at the sight of the woman standing just inside the slash of light, huddling in on herself, shaking. She was average height and on the plump side, around twenty like me, with light brown hair. Unlike me, her boobs looked ready to spill out of the low-cut halter top she wore, and her tight micro skirt was so close to showing her goods that if she twitched, I'd be scarred for life.
Three male vamps cruised around her like sharks. Their fangs were displayed like sharp, curved knives, their features sunken parodies of a human face, more like fleshy skulls as their insatiable hunger gained control. I wondered how much money they'd offered to lure her out of her zone and into such a dangerously secluded area. Maybe all they'd needed was to promise her the erotic trip that their venom gave. Either way, she'd made a fatal error. 
People were incredibly stupid about vampires. They had no idea what they were dealing with.
About Judy Teel: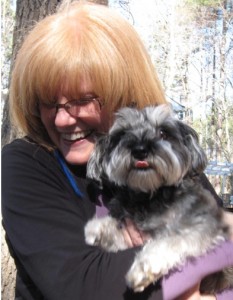 I live in North Carolina with my boisterous family–husband, three kids, a dog and a geriatric bunny. And yup, I'm Southern, so occasionally I let a "y'all" slip out. Maybe more than occasionally.
I love my job and dedicate as much of my time to writing as I can. When I'm not doing the weaving of the adventurous and romantic tales, I'm running errands, driving people around (or crazy depending on your perspective), and generally pretending I'm a grownup.
When I was fifteen, I knew I wanted to be a novelist–wanted to write for Harlequin actually. But the calling to tell stories came a lot earlier than that, I just didn't know what it meant.
I had a lot of growing up to do before I could manage it, though many would claim the growing up part didn't take–you know who you are–but I finally have my dream job.
Life rocks—so should the books you read!
Follow Judy Teel